Yeah. These were going to go up yesterday, but Starcraft 2. Also Batman Under the Red Hood. Yeah, i know it's been available for weeks on the torrent sites, but i decided to wait for the blu-ray with the Red Hood action figure…only it turned out to be another faux, arm waving mini statue, like Owlman. Nice sculpt and all, but fool me once – shame on you, fool me twice – bonus chromosomes unlocked.
Anyway, here's pics of Jessica dressed up as Power Girl, a superheroine with massively schizoid continuity: she was initially an Earth 2 analog to Supergirl, retconned into a magic Atlantean or something post-Crisis, then recently had her original origin as a boat person refugee from Krypton restored, making her basically Superman, plus better costume and bullet-proof cleavage.
All of this begs the question, though, how did comic book nerds back in the 80's deal with the whole Crisis thing, with no internet to vent, and no access to free porn as an escape? Considering the wailing and gnashing of teeth that goes on today over costume changes and deaths that are nobody even pretends will be more than temporary, were there mass suicides over Crisis? I'd like to believe there were. "I just don't want to live in a world where Alan Scott and Hal Jordan are somehow supposed to rationally coexist…please tell Mom this is not her fault."
More pics after the jump…be all wondrous of spirit and shit, and click through.

Power Girl is supposedly going to show up on the upcoming final season of Smallville. Will she be Atlantaen, Kryptonian, or just another costume Erica Durance wears briefly as a fan-service wank? Either way, very much looking forward to it, as it might help fill the gap left by Kara, who's stuck on V, and she would very much fit in with Smallville's JSA.
I have no idea what comic it was (one of her Birds of Prey appearances?), but i do remember Power Girl making a positive allusion to Ayn Rand, which a.) seemed pretty out of place in a modern, mainstream comic, and b.) utterly endeared her to me to the point that i even bought her weird looking Tonner doll. Anyone know what comic that was? If so, i'll scan it and add the panel here. Of course, i could just still be high from the syfy party.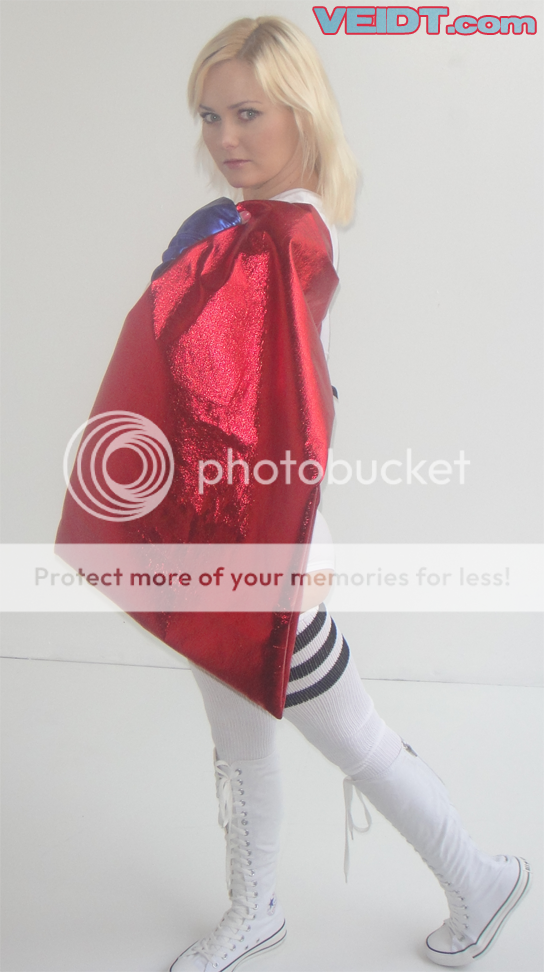 Thanks Jessica for wearing it. More new stuff going up shortly…but now, more Starcraft 2 tournament.