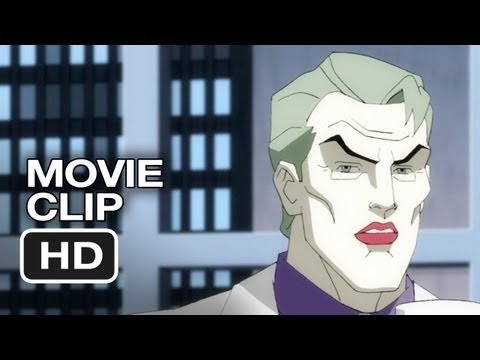 Here's a clip from The Dark Knight Returns Part 2, out on the archaic physical media of your choice next Tuesday (it's up on iTunes now, but i'm waiting for the Best Buy blu-ray, which should come with a Joker figure.) Features the iconic bit from the book where The Joker goes on David Letterman (or David Endochrine, for legal reasons), and does something interesting.
Not at all how i heard any of this when i first read it; Conan is particularly jarring. Michael Emerson's voice is different, but interesting different. Can't wait to hear him say, "Batman…darling." (edit: apparently he already did that at the end of Part 1…haven't watched yet, waiting to watch it all together), and it's nice to have an animated Joker that doesn't sound like an old woman, for a change. Also, mentally adding "…,Mr. Reese." to the end of each of his line readings will probably be entertaining for the first couple views.
Totally unrelated: new cosplay set up later, and the book is done, expect something on that shortly. Also i'm crazy behind on emails, going to deal with those now.