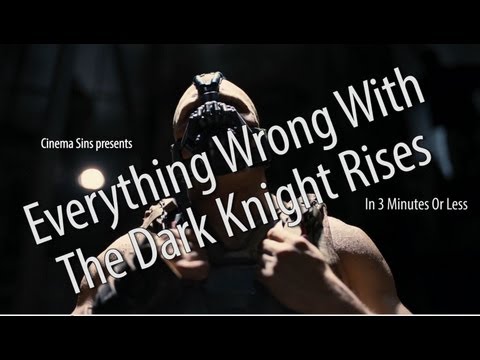 Posted the Avengers one, so throwing this up. It's clearly supposed to be humorous,  and it is, sort-of. It's also a bit infuriating, mostly because i've heard many of these arguments cited in full on, irony-free earnestness by critics of the film.
I'm reminded of the video that went around last year, where someone slowed and deconstructed a blu-ray rip of the lightsaber fight in The Phantom Menace, to show how staged it actually is, and that there was, in fact, not a real 3-way duel to the death with blades made of hard light taking place.
Doing shit like that, or getting OCD over real/perceived plot-holes, seems to be increasingly pervasive. It's also increasingly sad. You're picking apart works of art that were created with the foremost intent to entertain (and hopefully turn a profit), not to flawlessly mimic conventional reality. And to what end? To prove that a work of fiction is not real? Quite an achievement. I was on the set of The Dark Knight Rises a few times. Nobody seemed to be laboring under the belief that they were shooting a documentary.
Like a movie, or don't like a movie, but to invest such time and effort to definitively establish key plot points of a film are contrived, and action sequences are fake…perhaps that chi could be more wisely spent focusing on personal relationships/education/career path?
…says the idiot with a movie blog. New cosplay pics up later.