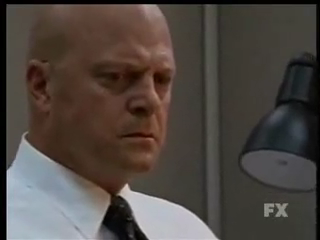 "The edge is where we live, all of us, all the time."
That was pretty much devastating. Devastating and brilliant. Vic managed to avoid prosecution for all of his crimes over the course of the series, and scored a huge victory in taking down Beltran, but absolutely lost everything.
I've watched Family Meeting, the finale of The Shield, twice now…have to fly to Vegas for Thanksgiving in just a couple hours, but my head's still spinning. I'm already reading posts derisively comparing its last moments to The Sopranos finale (which I liked), but I think they're missing the point. The Shield was resolved about as completely as it could be, while still leaving it open enough to inspire hope that Shawn Ryan and Michael Chiklis could revisit it, at some point.
Vic is stuck in desk job limbo for the next three  years, possibly a fate worse than prison or a hail of bullets, completely aware of the price he's paid, but unbroken. Mackey without all the things he worked so hard to hold onto is still Mackey. He remains, as he started out, a supremely narcissistic sociopath, with an amazing aptitude for manipulation, and the kind of god-luck you don't see outside of Intacto. But he also has a dissonant core of nobility: watch him in the final confrontation with Ronnie. Vic was forced to betray his code, in choosing to save his family over his friend/"team", and the look of shame on his face shows what a gut wrenching choice that was.
So many good moments: The Vic/Shane phone call. Shane in the convenience store, being kind to the Asian girl. Buying his kid a toy cop car. "Family meeting." The looks Vic gets when he returns to the barn. Ronnie getting arrested. "The last three years…" That pic of Lem and Vic. Vic squarely in cubicle hell. What an amazing end to an exceptional run.
I can't imagine how the Emmys could justify not giving Walton Goggins an award for his work here, as Shane…but of course, they won't. I look forward to kicking the hell out of my tv, when this happens. Fortunately, I bought the best buy extended warranty.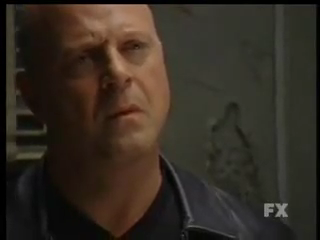 What I really want to know, even though they were probably left intentionally open-ended: Is it possible that Dutch actually killed the kid's mom, to beat the uncatchable (potential) serial killer? Did Acevada have Andre 3000 killed? And what was the final favor Shane was reaching out to Vic for? Was he going to ask him to take care of his son, after he and Mara become an heroes? Because I think that was it, and Christ I can't believe I'm still crying over goddamn Shane.
Completely unrelated: This is sort-of a mash-up between Labyrinth and one of David Bowie's darkest songs, and i thought it was beautiful, and it took my mind off of all this for a minute.