Yay, more naked bodypaint cosplay! Today's set is inspired by one of the most visually distinctive characters in all of comics, the mutant, shape-changing, blue-skinned, occasional X-Men supervillainess Raven Darkholme aka Mystique. She was my favorite part of the original X-Men film series, very much looking forward to seeing what Matthew Vaughn and Jennifer Lawrence do with her next summer in X-Men: First Class.
Donate button is still up. If you enjoy this kind of junk, and would like to support it continuing, do feel free to use it. Still trying to hit the $500 target, to cover a mobile version of the site, and faster/more bandwidth. Also, i very much need to hire someone who knows what they're doing with electronics, and can integrate EL light strips into a costume (GOOD LUCK trying to figure out what that might be. I'm sure it'll take hours of intense pondering and puzzling.)
More pics and a video after the jump. It gets a lot more blue going forward, so it's on you to decide where best to view these.
In the mid-90's there was a Calvin Klein ad campaign that featured half-dressed models in what looked like a wood paneled basement, apparently auditioning for amatuer pron. It was seedy, creepy, and made the old people rage (the ads were pulled just a few weeks after they debuted)…but fuck if they weren't effective,  leaving a big impression on my innocent little head. These pics, and some upcoming sets, represent kind of an homage to that ahead-of-its-time campaign. Not that the other stuff we've put up here wasn't seedy or creepy, but it's more intentional now.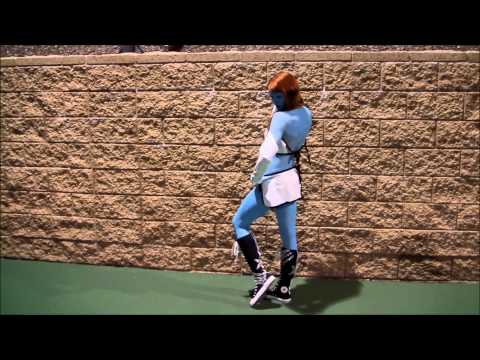 The track there is off the exceptional Resident Evil: Afterlife soundtrack by tomandandy. Cinematography here still apparently being provided by the Water Street Butcher (anyone who gets that reference is a Champ in my book.)
I'm completely out of things to say about Mystique, beyond her Marvel Universe action figure being my favorite of the series (so far.) Very much hoping for a Hot Toys figure tied to the release of First Class, as it seems depressingly unlikely the Rebecca Romijn version will ever get that treatment.
Also, i think i've broken out the Immortel blu-ray like 3x since we shot this, as there really is nothing better than blue women. "I feel blue…for you."
Thanks Virginia for looking dope and putting up with all the airbrushing.